Experience the realistic massage techniques with the healing relaxation of heat. Similar to the warm hands of a professional masseuse that relax sore, tense muscles by stimulating blood flow and gently relieving stress and tension. Panasonic's latest innovation, featuring built-in thermal massage balls, create warmth to reduce swelling and soothe your tense muscles. This technology applies the calming strokes of a masseur's warm hands, providing total relaxation for your tired, aching muscles.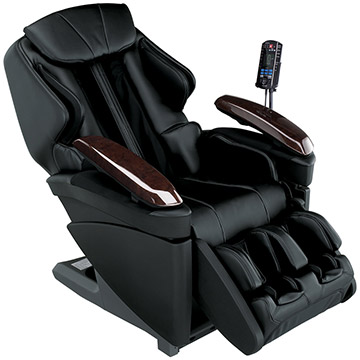 EP-MA70 Massage Chair - Black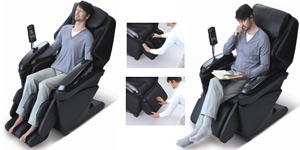 EP-MA70 Reversable Ottoman

Large Picture






Panasonic EP30004KU

If you are looking for information
about the EP-MA73K click here!

Main Features
Real Pro Thermal total body massage lounger
Ultimate full body massage featuring 3D massage mechanism
with heated massage heads and air massage technology
Choose from 108 massage combinations including 3D massage
Quick 5 minute "refresher" massage
Sensor technology scans your body for personalized massage
with 3-D scanning
3D massage techniques enables up-down, right-left and
back-front 3D movements for a professional massage experience.
Floating mechanism and 33 air bags provide realistic massage motions
Massages back, neck, shoulder, hips, arms, seat, pelvis
feet, shins and calves
Comprehensive personalization covers 3 users and 6 programs
6 pre-set modes:
Refresh, Deep, Shiatsu, Hip, Neck/Shoulder, Lower back
6 manual modes:
Ultra knead, Shiatsu, Kneading, Swedish, Rolling, Tapping
Thermal massage balls
Armrest adjusts automatically as you recline the chair
Available in Black or Ice
Massaging ottoman can be rotated 180° when not in use
Adjustable leg rest can be extended by up to 7.2"
User friendly interactive remote control
Ultra soft and durable synthetic leather upholstery
Endorsed by the American Chiropractic Association
Maximum user weight 265 lbs
Canada-Wide Warranty:
5 year, labour - 3 years, parts
List Price: $8,249.00




Sale Price:

$5,995.00




Free Delivery In Toronto