Which brand of shaver should I buy?
One of the questions we are most frequently asked is "Which shaver is best for me"? As much as we would like to help you select the best electric shaver, the short answer is, "Whichever works best for you!" All of the major manufacturers recognize this and provide a "Money-Back Guarantee". This means you can choose and try a shaver without the risk of getting stuck with a razor that does not work for you. If you don't like the shaver for ANY reason, you send it back to the manufacturer for a refund.

Electric shavers range in price from $50.00 for an entry level shaver up to several hundred dollars for the latest top of the line model from Philips, Braun or Panasonic.

If you have never used an electric shaver before, there are several considerations. If you have sensitive skin, you might decide to opt for one of the wet-dry shavers which would let you try a wet shave with gel or lather if you found a dry shave not to your liking.

There are two different shaving systems. One is a foil and blade system, the other is the rotary head system. If you have a heavy beard, you may prefer a foil shaver, such as the Braun or Panasonic, and you may get your best shave by shaving dry, which is what electric shavers were originally designed to do. If you have a sensitive face, or the typical problem with the neck area, you may prefer a rotary Philips shaver. Once again, whether you decide on a wet-dry or dry only model, the quality of the shave will depend on your face and whiskers.

If you have used an electric razor before, there are also considerations. Did you like the shaver you had? If so, stick to the same shaving system, for instance don't switch from a foil to a rotary if you really liked your foil shaver. If you did not like your previous shaver, consider switching shaving systems to see if another system might suit you better. Should you have trouble deciding which shaver to try first, please call or email us at info@shavercentre.com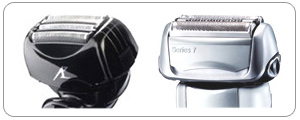 Panasonic - Braun Foil Electric Shavers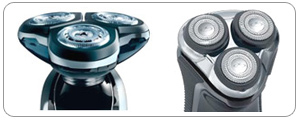 Philips - Remington Rotary Head Razors
Back To Top
---
How much does it cost to maintain my shaver?
Changing the screen and blades is a judgment call. For foil shavers you should change the screens and blades every 12 to 18 months. The replacement parts costs varies with the models. A set of Braun, Remington or Panasonic screen and blades range in price from $35 to $70 (depending on the shaving system). Rotary head shavers are more durable and may be more economical to use. Philips rotary shaving heads will last between 12 and 18 months. They range in price from $40 to $90. Always clean and lubricate your shaver to make these heads last longer.

Back To Top
---
Is my shaver worth repairing?
Many shavers can be repaired at a reasonable cost. Braun cordless models require a new circuit board when the batteries are defective. The cost is $69.95. If your shaver needs repair at the same time that the heads need replacement, it may be better to buy a new one.

Back To Top
---
What's the difference between cordless and cord/cordless and wet/dry?
Cordless shavers only work when the batteries are charged. Cord/Cordless shavers will work as a cord shaver even when the batteries are not charged. Cord/Cordless shavers cost a little more, but for the added convenience they're well worth the money. Wet/Dry shavers can be used in the shower and are 100% waterproof. They are always cordless only shavers that for safety reasons are not operating while the power cord is plugged in.

Back To Top
---
How long will it take to repair my shaver?
Our average turnaround time is 48 hours from the time we receive your shaver. Depending on the shipping method you choose, your shaver should be back in less than a week. If parts are required and are not in stock, or on backorder from the manufacturer, this could take longer. You will be notified if this is the case.

Back To Top
---
Why does my shaver foil wear out so quickly?
If you apply too much pressure while shaving, the screen will wear out more quickly. If the shaver is not cleaned every time you shave, the life of the foils and cutters will also be reduced. Make sure that the cutter gets replaced yearly. Screens are very delicate, so proper handling is most important as they can be easily damaged. Using one of the shaver lubricants you can find on our Shaver Supplies page after cleaning will greatly reduce friction. This should help make the heads last longer.

Back To Top
---
How often should I change the screens and blades?
All major manufacturers recommend you change your shaving heads every 12 to 18 months, with daily cleaning. For Braun, Panasonic, and Remington foil shavers, this means changing both the blades and the screen or foil at the same time. For Philips and Remington rotary shavers, this means changing either the three metal cutting heads, or entire head assembly.

Back To Top
---
Which trimmer is right for me?
Choosing a trimmer depends on what you are trimming. If you want to touch up side burns and clean up your neck area between haircuts, Wahl has several battery operated trimmers and Grooming Kits which do a nice job. There are hair cutting kits from Philips and Wahl that are easy to use if you would like to trim up your own hair. There are also professional quality clippers from Wahl for home haircuts if you want to do the whole family. We carry a Wahl clipper which is designed for complete head balding, with 000000 extra fine blade.

If it is your beard you want to trim, there are beard trimmers from Remington, Panasonic, Philips and Wahl. They range in price and quality depending on your needs. Some trimmers even have a built-in vacuum to minimize clean up.

One of our most popular trimmers is the Philips BodyGroomer for Men, great for trimming all body hair, 100% waterproof for use in the shower.

To check out our extensive trimmer line go to our Trimmers page.

Back To Top